"[Based on: Q3DM17] We pay homage to one of our favorite maps from the good old days. For extra fun, try to use the teleporters with your rocket launcher."
Description
Edit
Spaceport Alpha is a former Bluebox Map announced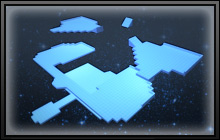 on 17th of January 2012.
[1]
It is textured since the 4.3.10 update. It only offers Death Match game mode.
Items available to pick up in this map are UberHealth, UberArmor, Big Health (x2), Big Armor, Medium Health (x4), Mini Health (x6), Mini Armor (x11), Cannon (x2), Splattergun (x2), Sniper Rifle, Cannon Rockets (x2), Sniper Bullets (x2), Machinegun Ammo (x6) and Splattergun Cells (x2).