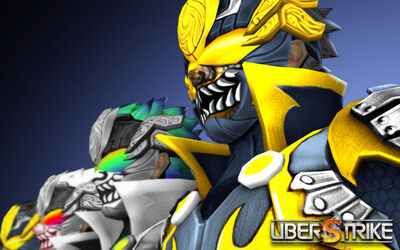 "Sentai Samurai Armor: Designed to deflect bullets & monsters!"
The Sentai Samurai Armor is now available in UberStrike. The body armor looks somewhat similar to the Lucius The Cruel Jacket, possessing a long cape at its back. The Masks of the Sentai Armors are taken from the different types of Ninja Maws in the shop so the masks vary on the Sentai Armor you prefer. The armor posesses a total of 120 AP and a 20% Defence bonus total, making it one of the strongest armors in the game.

Sentai Samurai Armor (Yellow)
Edit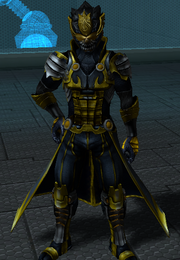 The Yellow version is the original version,It is the cheapest than the other versions.The armor is detailed with Yellow paint in some parts of the armor.
Sentai Samurai Armor (Red)
Edit
The Red version is the variation of the original,with more darker detailing on it with red tints around the armor.
Sentai Samurai Armor (Sliver)
Edit
The Silver version can only be obtained in the Mystery Box section for 1,300 credits. It is alot rarer than the other two variants but is permament once won (Stated in the Picture). It has white detailing on the armor.