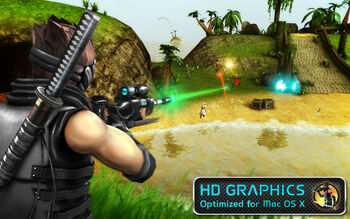 Apart from being able to be played in browser on most computers, Uberstrike also has several other features that seperate it from other social games and first person shooters.
It is playable on Mac, PC, and now iPad. Uberstrike HD used to be available on the Mac App Store for free and Uberstrike Windows Client was available via the Cmune Portal. However,Cmune has officially shutdown the Mac and Windows apps as the apps were putting stress on their ability to build new features as fast they would have liked for you.
The game is now available on steam on Mac, Windows, and Steamplay. (Still free to play)
A large amount of player communication. This includes chat, the ability to form clans, tournaments, and an active forum board.
A variety of items, with the abilty to purchase in game items with both in game currency and actual money.
Settings (Including VSync and Anti Aliasing) which can be modified to enable Uberstrike to run on most computers regardless of graphic cards.
Two (soon to be three) different game modes and currently 14 maps keeping the fun endless. Every now and then a special modified version of an already existing map will be added. Example: Ghost Island a halloween version of Monkey Island 2
Cmune (developer) constantly updates the game with new features. Specials happen every Wednesday and Friday in China Standard Time. They are usually sales on existing items, release of previously removed items, or a release of a completely new item.