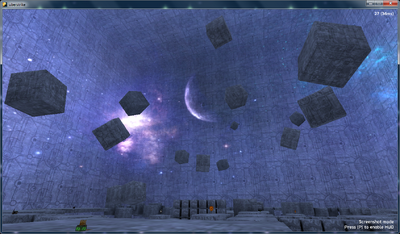 Are you getting bored of the same old
CuberStrike
and have you always wonder what
CuberStrike
would look like if it were colored in? Well wonder and be bored no longer! The new map CuberSpace is set in space with low gravity. Released at the same time as
UberZone
, CuberSpace is
CuberStrike
but with less gravity. CuberSpace is the only active map in UberStrike that has low gravity. Just so were clear it's not complete zero gravity. Due to a recent update CuberSpace has gone from 50% less gravity to just low gravity. Before the update you could litrally float around the whole map (just as if your were underwater) but you could not walk on the ground, after the update you could only jump higher and walk on the ground but you could not float all over the map.
Notice: To those who like CuberStrike and it's anti gravity free zone the level is still available to play. CuberSpace has not replaced good old CuberStrike.
Caution
Keep in mind that here in CuberSpace when you enter Iron Sights or Sniper Scope you will REALLY slow down. You will become so slow when aiming with Iron Sights or Sniper Scopes that you will literally be a sitting duck. So if your going to use Iron Sights or a Sniper scope DON'T WALK jump around to avoid this slowness.
Tips
If you have the Particle Lance or any other sniper with a targeting reticle then it is highly recommended for this level. However if your good at no scoping then you can put powerful snipers to good use like the AWP and score big.